By

Behindwoods News Bureau

|

Jul 31, 2018 04:09 PM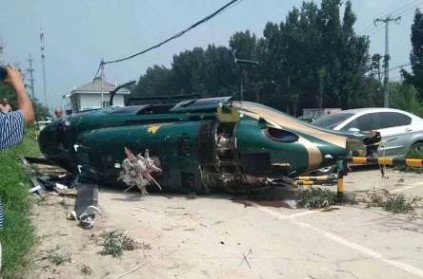 A video clip of a helicopter crash in Beijing is going viral on social media. Reportedly, four people were injured in the accident. The video shows the civilian pilot steering the aircraft away from more crowded areas. He succeeded in preventing what could have become a serious accident.

Eyewitnesses reportedly said that the helicopter hovered in an uncontrolled way on Monday morning before crashing. Due to the heavy impact of the crash, the body of the helicopter and its tail rotor separated. All four people on board reportedly climbed out of the wreckage.

There were no fatalities, and the injured passengers were admitted to hospital for treatment. An unidentified malfunction caused the helicopter for civil use made a forced landing.

The crash occurred near a bridge in northern Beijing at about 11 a.m., China Global Television Network reports. Rescue teams and firefighters have rushed to the site. The cause of the crash is currently being investigated.
A helicopter suddenly dropped in Beijing near Naizi County, Chaoyang District, around 11 am today. No injuries from the crash reported; the accident is still under investigation. pic.twitter.com/j3sw5mErMo

— People's Daily,China (@PDChina) July 30, 2018
HELICOPERCRASH
next