Watch: Couple gets married in flooded church; video goes viral
Home > World news
By

Behindwoods News Bureau

|

Aug 13, 2018 03:19 PM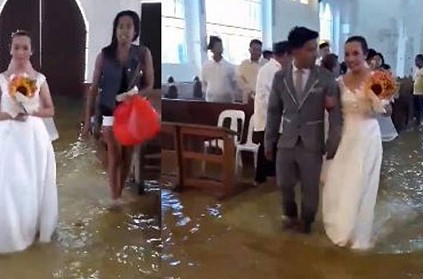 Even heavy rains and monsoon couldn't deter a couple in the Philippines from going ahead with their wedding on Saturday despite a flooded church in the Bulacan Province, north of the country's capital, Manila.

A video clip posted on Facebook, which has since then gone viral, shows the bride smiling as she waded down the aisle through knee-deep floodwater, as the hem of her dress got wet and made it to her waiting bridegroom standing at the altar, wearing sandals.

Many viewers sent congratulatory messages to the newly-wed husband and wife saying neither rain nor flooding could postpone the wedding of a loving couple.
OFFBEAT, WEDDINGVOWS
next