By

Ramya Ashok Kumar

|

Aug 28, 2018 03:28 PM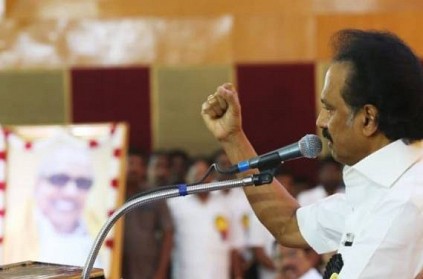 Dravida Munnetra Kazhagam's General Council meeting was held today at Anna Arivalayam, Chennai. During the meeting, the late DMK Chief M Karunanidhi's son MK Stalin was elected as the new President of the party.
The meeting commenced with everyone observing a two-minute silence for the loss of the DMK patriarch, former PM Atal Bihari Vajpayee, former Lok Sabha speaker Somnath Chatterjee, former TN Governor Surjit Singh Barnala and former UN secretary general Kofi Annan.
Stalin addressed the crowd in the end, thus concluding the meeting. He humbly stated that unlike his father, the late Kalaignar, he does not have linguistic skills. He expressed grief over Karunanidhi's absence while he took responsibility as the leader.
He asserted the need to rebel against the "spineless" state government. He also stated, "A lesson has to be taught to the central government that intends to colour India saffron."
next