"Party has lost its leader, but I have lost a father as well": Stalin tears up at meeting
Home > Tamil Nadu news
By

Ramya Ashok Kumar

|

Aug 14, 2018 01:26 PM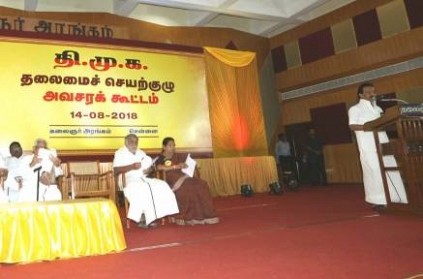 On August 10, the DMK party announced that an emergency executive member meeting will be held on Tuesday. The announcement came in days after the party chief MK Karunanidhi passed away.
The meeting held at Anna Arivalayam commenced to a great start with DMK's working president MK Stalin making an entrance. The late chief's daughter-MP Kanimozhi was also seen attending the meet. Before getting on with the meeting, the members observed silence in honour of the late DMK patriarch.
MLA J Anbazhagan addressed the meeting first and urged Stalin to put the party first before family and assured that they will all follow behind him. Senior leader Duraimurugan also spoke and reminisced his moments with the late DMK Chief.
The meeting concluded with DMK's working president MK Stalin's speech. Stalin said, "The party has lost its leader but I have lost a leader and a father as well." He also revealed how he appealed to CM Edappadi Palaniswami. He said, "With no regards for honour, respect and prestige, I approached the Chief Minister for space in Marina. I even held his hands and begged. However, he refused."
He concluded his speech by insisting on bringing DMK to power just like how Karunanidhi wanted. He also promised to follow in the footsteps of Kalaignar.
next