"I'm So Sorry, Please Don't Ban Me": Virat Kohli Recounts 'Middle Finger' Controversy
Home > Sports news
By

Behindwoods News Bureau

|

Sep 05, 2018 04:35 PM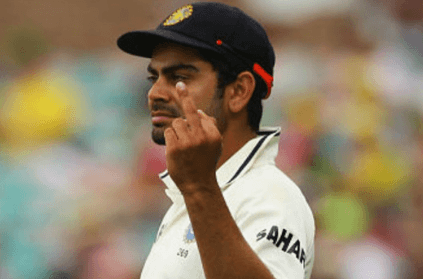 While he still does get into banter, and rubs shoulders with opponents, Virat Kohli is clearly simmered down from his initial days in international cricket. Kohli has been involved in multiple controversies through his incredible career.

In an interview with Wisden Cricket Monthly, Kohli recounts the incident where he was caught on camera, showing the middle finger to fans.

"The one thing I remember most is when I had enough of the Australian Crowd in Sydney and I just decided to flick a (middle) finger at them," he said "I'm so cool. The match referee called me to his room his room the next day and I'm like ,'what's wrong?' He asked me 'what happened at the boundary yesterday?' I said, 'Nothing, it was a bit of banter'. Then he threw the newspaper in front of me and there was this big image of me flicking on the front page and I said, 'I'm so sorry, please don't ban me!' I got away with that one. He was a nice guy, he understood I was young and that these things happen."

"I really laugh at a lot of things I did when I was young, but I'm proud that I did not change my ways because I was always going to be who I am an not change for the world or anyone else. I was pretty happy with who I was," Kohli added.
next