BCCI to recommend 2-ODI ban for Hardik Pandya and KL Rahul?
Home > Sports news
By

Ramya Ashok Kumar

|

Jan 10, 2019 05:32 PM
Indian cricketers Hardik Pandya and KL Rahul came on the recent Koffee With Karan show but instead of a fun, lighthearted episode, the audience was subjected to misogynistic and sexist comments. The two faced flak on social media for their talk on the show.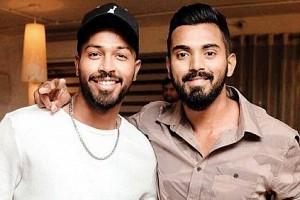 In response to their controversial comments on the show, the Board of Control for Cricket in India (BCCI) issued a statement on Wednesday informing that they have issued a show cause notice to the two cricketers for their behaviour.
After a short while, Hardik Pandya issued an apology on his social media handle. Pandya had written, "After reflecting on my comments on Koffee with Karan, I would like to apologise to everyone concerned who I may have hurt in any way. Honestly, I got a bit carried away with the nature of the show. In no way did I mean to disrespect or hurt anyone's sentiments. Respect."
However, it seems that BCCI is not convinced with Pandya's apology. Reportedly, Chief of Administrators (CoA) Vinod Rai in an e-mail to BCCI CEO Rahul Johri recommended a 2-ODI ban for the two players.
Calling the comments made by two crass, Rai wrote, "I have seen the remarks made by these two players on the show in print today. Very crass. No apology can cover it. I had asked Diana (CoA member Diana Edulji) to suggest penalty because I had not seen the clip.
"I think we need to give both of them a two-match suspension. If Diana agrees, Rahul please draft an appropriate instruction and issue today as their explanations have come in. Separately, please prepare an advisory to all BCCI contracted players and support staff."
The two may be awarded a penalty if Diana Edulji says so. Edulji has reportedly referred the matter to the BCCI's legal cell.
next