Heartwarming: Man coming out with support of family has India happy
Home > India news
By

Behindwoods News Bureau

|

Sep 07, 2018 05:36 PM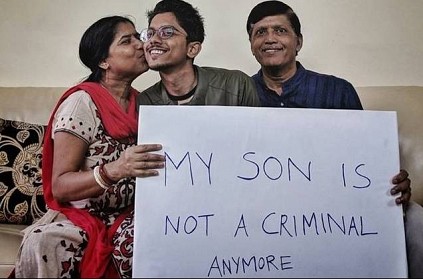 With the Supreme Court quashing Section 377 yesterday, which seeks to criminalise homosexuality, the entire country seems to be in a celebration mode and many heartwarming stories are coming out.

One such story is that of Arnab Nandy, a young man from Mumbai, who put up a moving post on Facebook along with a photo of himself with his parents announcing him coming out to the world.

The photo shows his mother planting a peck on his cheek and his father proudly holding a banner that reads, "My son is not a criminal anymore".
The post with over 3,000 shares talks about the struggle of coming out and how much the support of parents matter.
HOMOSEXUALITY
next