NENE RAJU NENE MANTRI MOVIE REVIEW
Review By :
Behindwoods Review Board
Release Date :

Aug 11,2017
Movie Run Time :

2 Hours 33 Minutes
Censor Rating :

U/A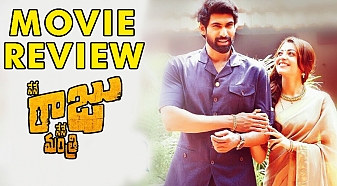 NENE RAJU NENE MANTRI CAST & CREW
Production: Kiran Reddy, Bharath Chowda, D. Suresh Babu
Cast: Shivaji Raja, Ashutosh Rana, Catherine Tresa, Kajal Aggarwal, Navdeep, Rana Daggubati
Direction: Teja
Screenplay: Teja
Story: Teja
Music: Anoop Rubens
Background score: Anoop Rubens

Cinematography: Venkat C. Dileep
Dialogues: Teja
Editing: Kotagiri Venkateswara Rao
Singers: Anoop Rubens, Divya, Divya Spandana, Master Rishon Rubens, Rohith, Shravani, Shreya Ghoshal, Vijay Yesudas
Lyrics: Surendra Krishna,Lakshmi Bhupal

After the magnum opus Baahubali 2, we see Rana Daggubati on the big screen with director Dharma Teja for a love-political film Nene Raju Nene Mantri under Suresh Productions. The expectation levels for the movie are high and has it lived up to the hype?

Director Teja has taken on a political premise, but the script, on the whole, looks clumsy and disoriented. In fact, there is hardly a strong reason to make a movie out of it. There are of course one or two exciting scenes, but you can't do a movie just because you have two good scenes in hand.

Rana as Jogendra who loves his wife so madly and wishes to satisfy every wish of hers. He does all evil things to earn money to make her better half pleasantly upbeat. He in fact dreams to become the Chief Minister of the state to make her wife happy and in the process of doing so, he becomes greedy. How that hunger for ambition changes his life is what NRNM is all about.

At first, the story by itself is not flashy. Secondly, there is absolutely no logic in the film whatsoever. Rana keeps killing people mercilessly, and no one bothers to ask him about it. Rana is definitely a valuable addition to the movie, but he alone cannot save a lackluster script single-handedly. Even the technical team is comparatively weak. They show glimpses of good work here and there, but overall the production value could have been a tad better.



Kajal Aggarwal has a meaty role, someone who travels throughout the film gives a convincing performance. In spite of giving her adequate screen time, she doesn't get enough scope to showcase her talents, however, gives what was required. On the other, Catherine Tresa's role could have been sketched better, and her portion was more or less used as a filler and nothing else.

There are no bright sparks in the dialogues, and in fact, the logorrhea sometimes gets a bit tedious. You see plenty of action in the film, but none satisfies you because there is hardly any purpose to it. NRNM is not about good vs. evil but evil vs. evil.

Since you don't find any logic behind Rana's action, you do not have any sympathy or empathy towards the character. Even when people rave Kajal for her good deeds in the film, you don't feel for her one bit as she is still a culprit who lets a criminal (Rana) on the loose.

It is very difficult to think what's gone into the director's mind. Throughout the film, he establishes Rana's character as a menacing evil politician, and towards the end, Rana justifies all his wrong action by blaming the corrupt system. You make all the mistake and why blame the system for that? And the biggest joke comes when Rana confesses that he had killed hundreds of people on a live Television telecast, the entire nation wants him to become the next CM of the state. Seriously? What is the logic behind that?

Verdict:

No logic and no purpose whatsoever! A tedious watch
BEHINDWOODS REVIEW BOARD RATING
REVIEW RATING EXPLANATION
NENE RAJU NENE MANTRI NEWS STORIES
NENE RAJU NENE MANTRI PHOTOS
Nene Raju Nene Mantri (aka) Nene Raju Nene Mantrii
Nene Raju Nene Mantri (aka) Nene Raju Nene Mantrii is a Telugu movie. Shivaji Raja, Ashutosh Rana, Catherine Tresa, Kajal Aggarwal, Navdeep, Rana Daggubati are part of the cast of Nene Raju Nene Mantri (aka) Nene Raju Nene Mantrii. The movie is directed by Teja. Music is by Anoop Rubens. Production by Kiran Reddy, Bharath Chowda, D. Suresh Babu, cinematography by Venkat C. Dileep, editing by Kotagiri Venkateswara Rao.